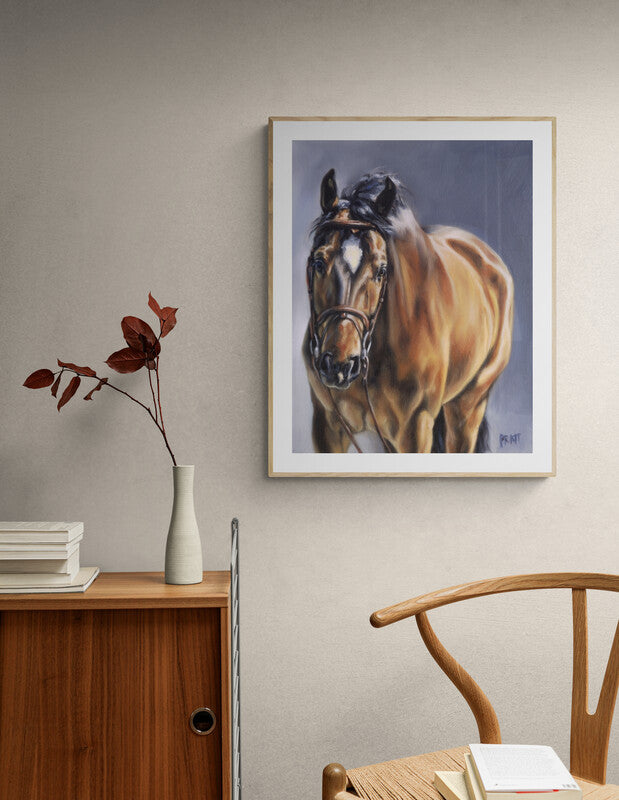 I'm Jennifer Pratt!
As an artist, I have dedicated myself to the subject that inspires me most, the equine form. I am drawn to the lines in a horse's conformation; fluid, angular, curvaceous and graceful.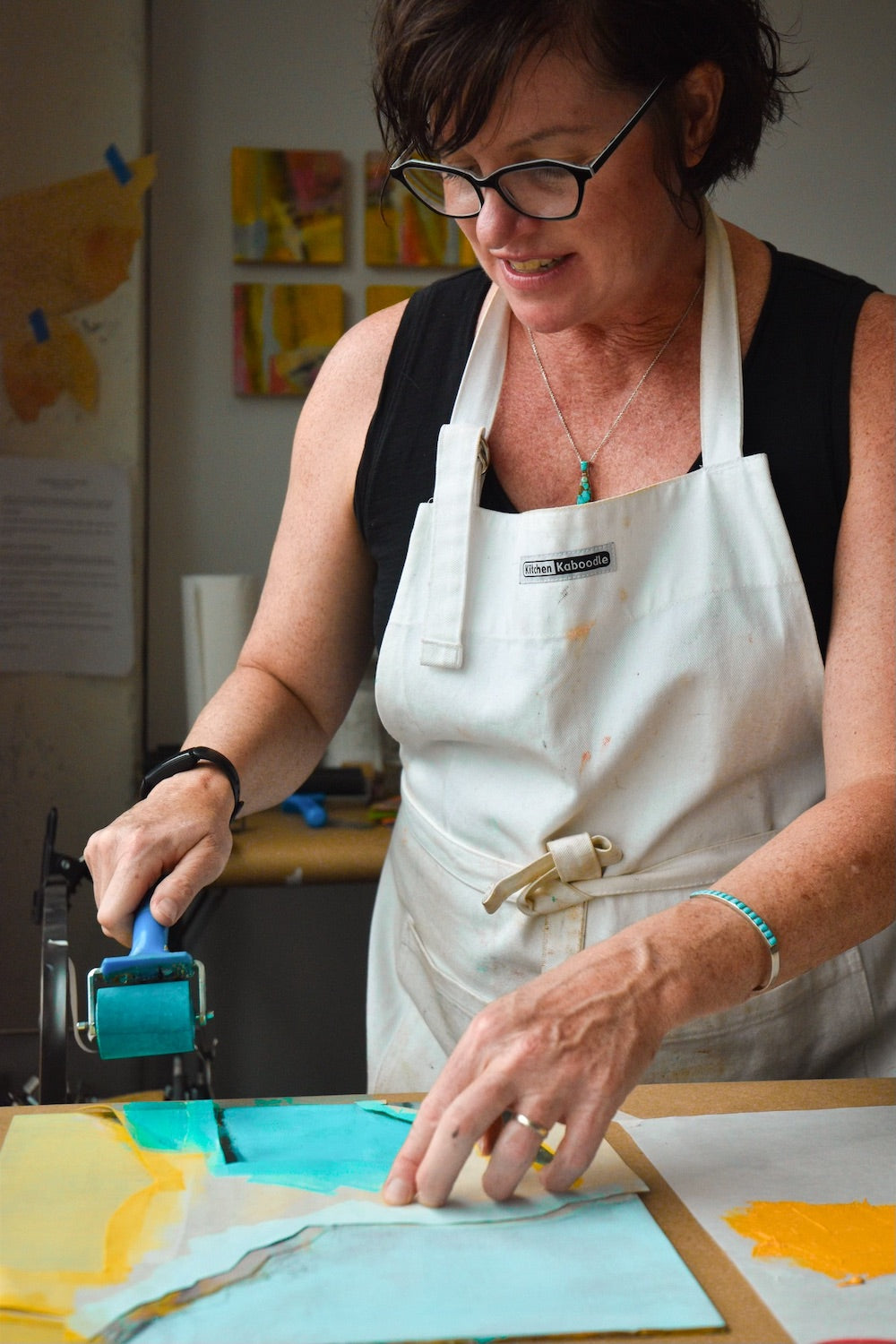 Expressing Movement and Energy
In my artwork, I look for ways to express these contours, accentuating their energy and movement through colour, brushwork, and miscellaneous tools, such as brayers, spatulas. I also use solvent reduction techniques. My work often encourages a strong connection between the horse and the viewer. I rely often on simple stoic poses and find my way to express these poses in my own style. 
Capturing the Essence of Equine Beauty
My process always begins out in the field. In a paddock or in the wild, there are usually one or two horses, often mares, that captivate my interest and evoke the desire to create. This happens through witnessing their character, movement, and reflections of light on their coat; sometimes I am also inspired by the story of what the animal has to share.
Transforming Inspiration into Art
Back in my studio, I cover the walls with field notes, photographs, and studies. As I am creating, I explore ideas on how I can expand and accentuate the lines that interest me the most. Sometimes the work is representational but depending on where my ideas take me, I also diverge into figurative abstract in mixed media including Cold Wax Medium. These two genres, while visually different, balance my creative flow and satisfy myself as the artist and the designer. I know each artwork is complete when the story that I have woven with paint conjures the visceral memory of each horse and captures its unique presence on canvas.
A 20-Year Artistic Odyssey: From Ontario to Portland
I started my artistic career over 20 years ago in Ontario, Canada. I am proud to have longstanding relationships with my collectors. In the summer of 2013, I relocated with my family to Portland, Oregon. My studio is currently located at 2400 SE Holgate, Portland Oregon, and I LOVE visitors! Alternatively, if you are on the East Coast, you can see some of my inventory at Equis Art Gallery, in the lovely hamlet of Red Hook, New York.
Artist CV
2020
Accepted Artist, Calgary Stampede Mini Masterpieces juried exhibit. (cancelled due to Covid 19)
2019
Emerald Spring Exhibition National Juried Painting Competition "Emerge II"

AAEA Spring Online Showcase "Emerge I"
2018
Canadian Living Magazine, March issue, Featured Artist, A Glimpse of Green Article.
2013
"Poppy" Juried into ExArte Equinus VI, Art Horse Magazine

Relocated from Orangeville, Ontario, Canada to Portland, Oregon, USA
2011
Style at Home Magazine, Featured Artist, February issue, High/Low Article

Workshop, Student Participant, Vicki McMurry, Wenmohs Ranch, Texas
2010 
Horse Sport Magazine, October Issue – Editorial Contributor, Art on the Road, A Canadian Artist in Sweden

HITS – Pfizer Millions, juried show selected artist

Solo Show – June, Ale Ridsport,  ÄLVÄNGEN, Sweden

Style at Home Magazine, February Issue – Small Spaces, Featured Artist
2009
2008/09 – Art Horse Magazine – "Untitled in Orange" juried Ex Arte Equinus show

Student Participant, 'In the Studio of Sargent' Workshop, Academy of Realist Art Toronto

Commissioned Artist – Gran Gesto, Canadian Olympic Dressage Team, Beijing, for rider Jacqueline Brooks, commissioned by Dutch Masters Construction
2008
Participating Artist – Le Cadeau du Cheval, Spruce Meadows,  Alberta, Canada

Horselife Magazine – "PS I Love You" cover photograph

Art Horse Magazine – "Billy" juried Ex Arte Equinus show
2007 and previous
Resident Artist,  The Bartlett Gallery, Alton, Ontario

Feature Article, Sidelines Magazine, Florida, USA

2001 – Present Member Equine Artist Guild

2006 –  Featured Cover Artist, Horse Talk Magazine

2005 Art in the Yard, member of Juried show, Elora Ontario

2003 Hills of Erin Studio Tour, Open Studio, Erin, Ontario

2007 – Present – Member Headwaters Tourism

2001 – 2003 Working Artist Studio, Alton Mill, Alton, Ontario

2001 – Present Full-time Working Artist

1997 – 2001 Commercial Interior Designer, Toronto

Board of Governors Medal Winner of '97 Graduating Class, Sheridan College, Interior Design Program